June, 3-5, 2015
Venue: IETE Delton Hall 2, Institutional Area, Lodhi Road, New Delhi 110003

Organizing chair: Dr Smriti Dagur, President
The Institution of Electronics and Telecommunication Engineers (IETE), India
Coordinator: Maj Gen P.K Jaggia
Secretary General, IETE
Email: sec.gen(at)iete.org
+91-11- 43538821
Contact person: Mr Balwant Sharma
Email: balwant.sharma(at)gmail.com
+91 9716013100 (M)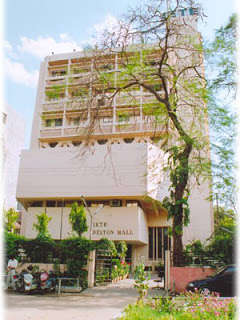 Cyber Security: The Lifeline of Information and Communication Technology (ICT)
Download Program in PDF
Register
Day 1 : Wednesday, June 3, 2015
08:30
Registration
09:30 - 11:00
Opening Session
Welcome address: Ms. Smriti Dagur, President, IETE
Introduction & Strategy: Prof Ramjee Prasad, Chairman, GISFI
Inauguration by Premier of the Event: Hon'ble Dr Harsh Vardan, Minster for Science & Technology & Earth Sciences, Government of India (TBC)
Chief Guest: H.E Mr. Freddy Svane, Ambassador of Denmark to India
MoU Signing between IETE and GISFI
11:00 - 11:30
Coffee Break
11:30 - 13:00
Session 1: Regulations
Session Chair: Dr. Anand R. Prasad, Chief Advanced Technologist and Executive Specialist, NEC Corporation, Tokyo, Japan, and Chairman Security & Privacy Working Group, GISFI

Dr. Narendra Nath, DDG Security, DOT
Mr. Krishna Sirohi, Senior Advisor NIKSUN, and Chairman GISFI Standards Committee: "GISFI: A national technical platform for multi-stakeholder collaborative working necessary for effective regulations"
Mr. Dinesh Sharma, Director Standardization, Policy and Regulations SESEI: "European & Indian Perspective of Security Regulations"
Mr. R.R. Mittar, DDG Security, TEC: "Technical Approach taken by TEC for Setting Network Security Testing Framework"

13:00 - 14:00
Lunch
14:00 - 16:00
Session 2: Industry and Business Aspects
Session Chair: Mr. Krishna Sirohi, Senior Advisor NIKSUN

Dr. Siva Subramanian, Chief Cyber Security Officer, Airtel: "Legal and Regulatory Implicationson Cybersecurity"
Mr. Pawas Aggarwal, Chief Information Security Officer, Aircel: "Developing Cyber Security Skillset in the Organisation"
Mr. Vijay Madan, Chief Mentor, Tata Teleservices: "Indian private sector - the first line of defense, in security ecosystem - Related to challenges, issues and possibilities"
Mr. A.K.Mittal, DDG TTSC, DOT: "Security testing and certification of Telecom products"
Dr. Debu Nayak, Chief Security Officer, Huawei Telecom: "Security of SDN and NFV"

16:00 - 16:30
Coffee Break

16:30 - 18:30

Session 3 :Technical and Standardisation
Session Chair: Lt Gen S P Kochhar, MD, TSSC, Gurgaon

Dr. Anand R. Prasad, Chief Advanced Technologist and Executive Specialist, NEC Corporation, Japan and Chairman Security & Privacy Working Group, GISFI: "Cyber Security: Now and Future"
Mr. Takemasa Kamatani, KDDI, Japan: "An Approach toward Proactive Response against Cyber-attacks through international collaboration"
Mr. Sri Chandra, Senior Regional Program Manager, IEEE India
Dr. Rajeev Shorey, Principal Scientist/researcher, TCS Innovation Labs Cincinnati, USA: "Cyber Security for Internet of Things (IoT)"
Mr. Chandrasekhar, DDG TEC Cybersecurity
Mr. Mayur Dave, Individual Member of GISFI: "Cyber Security - Journey ahead: Sub: Standards Proposal"

18:30 - 19:30

Session 4: Closing Session
Session Chair: Dr. Anand R. Prasad, , Chief Advanced Technologist and Executive Specialist, NEC Corporation, Tokyo, Japan,

Mr. B.J.Srinath, Director General - ICERT : Keynote talk on "Cyber-Security Emerging Challenges and Evolving Preparedness to Address"
Dr. Vandana Rohokale, Dean R&D, SKNSITS Lonavala: "Cyber Physical System: Smart Grid"

19:45 -22:00

Gala Dinner
Day 2: Thursday, June 4, 2015
08:00
Registration
09:30 - 11:00
GISFI Session 1: Future Radio Network & 5G
Chair: Mr. Krishna Sirohi, I2TB-SPPL, India
Invited Speaker: Dr K T V Reddy, TPPC Chairman of IETE: " 5B & 5G".
11:00 - 11:30
Coffee Break
11:30 - 13:00
GISFI Session 2: Internet of Things
Chair: Dr Balamuralidhar P., TCS, India
13:00 - 14:00
Lunch
14:00 - 15:30
GISFI Session 3: Cloud Service Oriented Network (CSeON)
Chair: Dr. Parag Pruthi, NIKSUN
Vice Chair: Dr. Niranth Amogh, Huawei
Invited Speaker 1: Dr Vimal Wakhlu, CMD, TCIL
Invited Speaker 2: Mr Satyen N Gupta: "Virtualisation - Future of Next Generation Networks".
15:30 - 17:00
GISFI Session 4 : Security and Privacy
Chair: Dr. Anand R. Prasad, Chief Advanced Technologist and Executive Specialist, NEC Corporation, Tokyo, Japan,
Vice Chair: Dr. Debu Nayak, Huawei
Secretary: Prof Balwant Sharma, Individual Member
Invited Speaker 1: Lt Gen Rajesh Pant, IETE Governing Council Member: "India's Information Security Challenges".
Invited Speaker 2: Mr Mukesh Chander, IETE Fellow, IPS, Special Commissioner Traffic, Delhi Police
Invited Speaker 3: Dr N.K. Goyal, President, CMAI: Skills and Awareness for Cyber Security".
17:00 - 17:30
Coffee Break
17:30 - 19:00
GISFI Session 5: Green ICT
Chair: Dr Basavaraj Hooli, Individual member
Invited Speaker: Lt Gen A.K. Agrawal, Past President IETE: "Green ICT- Containing adverse impact on Environment and Climate Change".
19:00 - 23:00
Networking Dinner
Day 3: Friday, June 5, 2015
09:30 - 11:00
GISFI Session 6: Spectrum
Chair: Pawan K. Garg, Member, Radio Regulations Board, ITU; Vice Vice Chair: Tilak Raj Dua, GISFI
Secretary: Sanjay Kumar, BIT, Mesra
11:00 - 11:30
Coffee break
11:30 - 13:00
GISFI Session 7: Special Interest Group
Chair: Debu Nayak, HUAWEI
Vice Chair: Ashutosh Dutta, AT&T
13:00 - 14:00
Concluding Session
14:00 - 15:00
Lunch
Workshop on Cyber Security
Cyber-attacks are increasingly impacting businesses, privacy of individuals as well as security of nations. This has led to creation of cyber defense mechanisms worldwide but still the attacks continue. Hand-in-hand to cyber-attacks, technology enhancement is taking place at a fast pace leading to increasing connectivity in the form of 5G, Internet of Things (IoT), Machine to Machine (M2M), Smart city, Smart vehicle, Smart Homes, Smart Grid, Connected Devices, that also encompass the "Digital India" concept. Ever increasing connectivity and sophistication of attacks calls for concrete steps by all parties to prevent and defend from cyber-attacks

The Global ICT Standardisation Forum for India (GISFI) Security & Privacy Working Group (S&P WG) has been working on Cyber Security. S&P WG is developing solutions and recommendations regarding cyber-attacks together with TTC of Japan - PRACTICE project. Solutions of PRACTICE project that is used to monitor cyber-attack is deployed by GISFI membership. Results of this collaboration and future plans will also be presented in the workshop by both GISFI and participants from TTC Japan.

This one-day workshop, organized by GISFI and IETE, is a platform for broad discussion among all parties on various aspects of cyber security. The workshop is divided in four parts: (1) Regulatory, (2) Industry, (3) Technical & Standards and (4) Future Considerations. The workshop is meant for practitioners as well decision makers from IT, telecommunications and of course information security. Key players of all "connected" parties are expected to participate and bring input to this workshop.

As there are limited seats, participants are requested to register at info(at)gisfi.org. Please feel free contact us to get more information. Workshop participation is free of cost.